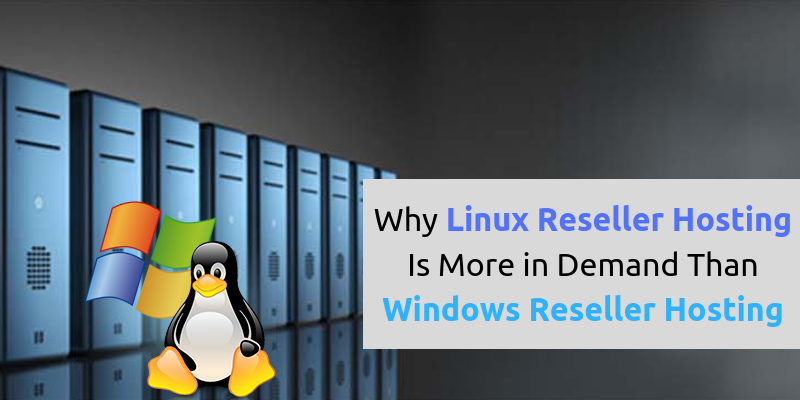 Why Linux Reseller Hosting Is More in Demand Than Windows Reseller Hosting
Reseller web hosting is gaining much popularity among business owners and it is one of the best businesses all over the globe. Because web development and designing are in high demand, the business is also booming in the web hosting industry and specifically in the reseller hosting arena.
Today, entrepreneurs are leveraging on this growth opportunity by starting their own company of reseller hosting to either create a full income flow or to supplement their brand. It is well adopted because of its overall simplicity and low initial costs.
---
But What is Reseller Hosting?
Reseller hosting is a process where one prime company, that is a hosting provider rents out its hard drive space and bandwidth to other small or mid-sized companies who then rents the space to any other third party. This is a great opportunity for aspiring entrepreneurs who are willing to start their own web hosting firms.
When it comes to choosing Windows and Linux reseller hosting, Linux has more demand than the other.
---
Why?
A market survey has stated that Linux reseller hosting is gaining popularity than Windows and following are the reasons behind the preference:
---
Programming Language Support:
One big reason for the popularity of Linux reseller hosting is that it supports a wide range of programming languages compared to Windows. Since the choice of selection is more, it is preferred by the users and business owners. The range of languages include different types that start from CGI basic script support to higher level programming languages like Perl, PHP, Ruby and etc. But in case of Windows, the choice is limited to only few languages that are powered by Microsoft like ASP, .NET and etc.
---
Access to the Host:
Linux reseller hosting is based on how you find access to your host. Linux and Windows both provide FTP access, but in case of Linux hosting, there are a number of advanced features like VNC, Telnet, SSH and etc. All these features are difficult to find in Windows
---
Performance and Security:
If you are very much concerned about the security and don't want any unauthorized access to your data and information, then Linux web hosting is obviously a better choice. It is more secure and also offers great performance. In any case, if you discover exploits, they can get fixed within a day's time without wasting time and money. On the other hand, the security and performance of Windows is comparatively a bit less than Linux.
Also Read: Make Money with Reseller Hosting Services Using These Effective Tips
---
Cost Effectiveness:
The server overhead of Windows reseller hosting is more compared to that of Linux. As a result, with similar applications, demands and traffic, the server resources that are consumed in case of Windows are often more than that of Linux. But it is true that at higher scales of traffic and application, the consumption of resources with Windows does not increase very high.
---
Operational Advantages:
Windows based applications and systems are easier to use due to its interactive nature and Linux is meant more for technical experts, but the other advantages of Linux often supersede Windows server hosting and makes it the preferred choice for reseller hosting service providers.