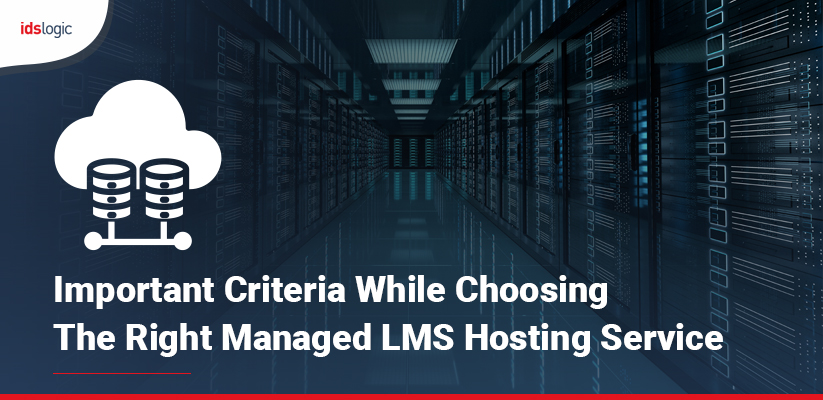 Important Criteria While Choosing the Right Managed LMS Hosting Service
Selection of the best hosting service for your LMS is a cumbersome task. With so many options online, it becomes difficult to settle on any one option. While buying a hosting plan, you need to check a lot of technical considerations. This will ensure that you will ultimately pick the right option that aligns with your business needs.
Here are few factors that you need to consider while choosing the right Managed LMS Hosting service:
Cost-efficiency
This is the topmost thing that everyone checks while searching for the hosting service for their LMS based training course. Sticking to your budget is necessary, but it doesn't mean that you choose the plan that doesn't cover your hosting needs properly.
Always remember that the hosting service that you choose will have a direct impact on your business. So, you need to think it as a one-time investment that will provide you long-term benefits.
Security
Hosting your LMS on your own is not a cakewalk. A website is always the target spot of the hackers. Opting for the poor hosting service can make your website vulnerable to security attacks that can cost your business badly.
So, it is best to choose the hosting plan that offers robust security measures to safeguard your training course from the cyberattacks.
Dedicated or Shared Hosting
With shared hosting, you will have to share a server with other websites. This will greatly impact the speed and uptime of the website. In case, your website traffic is not that high, this will not create much issue.
In dedicated hosting, you don't have to share the server with other websites. This is a highly secure option as it protects your website from getting hacked.
Customer Support
At some point of time, you will require assistance from the managed LMS hosting service provider for your queries and concerns. In that scenario, a prompt and speedy customer service will be of great help.
Look for a hosting service that has an excellent track record of providing unbeatable customer support to resolve the technical hurdles quickly.
Reliability of Server
The reliability of the server is judged by the uptime/downtime of a website. A lot of factors affect this thing where poor bandwidth and use of outdated technology are at the top. Mostly, the service providers guarantee 99.99% uptime to the customers.
For the smooth running of online training course, the speed of the server matters a lot. So, it is recommended to check for this parameter while choosing any plan.